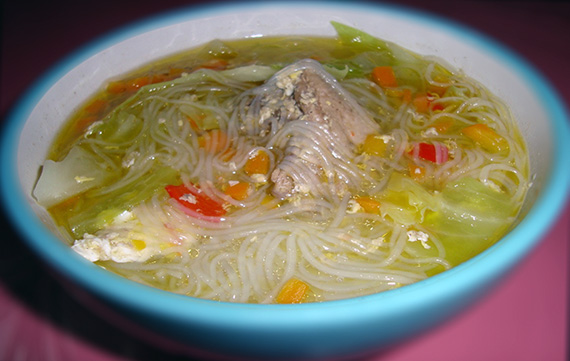 Ingredients Needed:
½ chicken cut into serving pcs
½ kilo sotanghon (vermecilli noodles) rinse with running water
2 pcs carrots sliced 1 inch length
1 kilo cabbage sliced inti thin pcs
2 pcs red bell pepper sliced
2 pcs onions minced
1 head garlic minced
5 cups water
1 pc chicken broth cubes
2 tbsp patis (fish sauce)
Salt and pepper powder to taste
1 tbsp cooking oil
2 eggs beaten
Directions:
In a wok, heat the cooking oil. Sauté the garlic, onion and bell pepper, then add chicken. Simmer for 8 to 10 minutes until the chicken turns light brown. Add water and let it boil for 3 to 5 minutes. Put in the broth cubes and fish sauce. Put in the carrots. Simmer for another 3 to 5 minutes. Add the cabbage and put in the sotanghon. Put in salt and pepper to taste. Add the beaten eggs and carefully mix. Simmer for a minute. Remove from heat.
Serve and enjoy!
Comments
comments