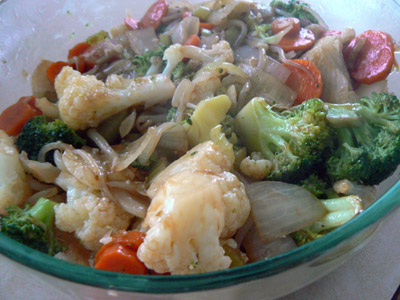 Vegetable chop suey is Chinese style dish that you can make into just about whatever you want – not just vegetables. You can transform vegetable chop suey into chicken chop suey, pork chop suey or beef chop suey by simply adding your favorite meat. You can also mix and match vegetables to your own unique tastes. This is an easy base recipe, so modify it to your heart's content.
This chop suey recipe makes about 6 servings.
Ingredients
3 tablespoons shortening
1 cup diced onion
4 chopped carrots
4 chopped stalks of celery
1 1/2 cups chopped cauliflower
1 ½ cups chopped broccoli
1 cup water
1 cup bean sprouts
Sauce
2/3 cup water
1/3 cup soy sauce
3 tablespoons cornstarch
2 tablespoons sugar
Preparation
Heat the shortening in a wok or frying pan over medium heat. Add the onion, carrots and celery.
Sauté until softened slightly. Add the cauliflower, broccoli and the 1 cup of water.
Place a lid on your pan and bring to a boil. Then simmer for about 5 minutes. Remove the lid and add the bean sprouts, cooking for a few minutes more.
In a small bowl, whisk together the 2/3 cup water, soy sauce, cornstarch and sugar. Add it to the vegetable mix and stir until thickened. Allow to simmer for a few minutes more or until the vegetables are at your desired softness.
Serve your vegetable chop suey with rice or alongside your favorite Chinese dish.
Comments
comments