Today is my birthday so I am going to celebrate by posting the recipe for chocolate mousse birthday cake with ganache and whipped cream.
This cake is quite decadent; but it can be pretty easy to put together, especially if you used pre-made mixes for your cake and mousse. If you're ambitious, you can use from scratch recipes instead.
This birthday cake consists of a chocolate cake base and chocolate mousse filling. It's then topped with whipped cream, chocolate ganache, crumbled Skor bars and garnished with strawberries.
Ingredients Needed:
1 – 9" cake, cooled and cut into 2 layers. You can also make 2 – 9" cakes if you prefer.

Chocolate Mousse set and chilled (use our simple recipe, or 1 packaged mix will do)

2 cups stabilized whipped cream

1 batch of chocolate ganache (use our recipe, it's easier than you think)

2-3 Hershey Skor chocolate bars, crumbled

Fresh strawberries for garnish
Directions:
Layer 1 – Chocolate Mousse: Place your first cake layer on a cake board and top with chocolate mousse.
Step 2 –  Whipped Cream Layer: Top the mousse with the next cake layer and then top with whipped cream. You will probably have plenty of whipped cream, but make sure you save enough for the piped decoration on top.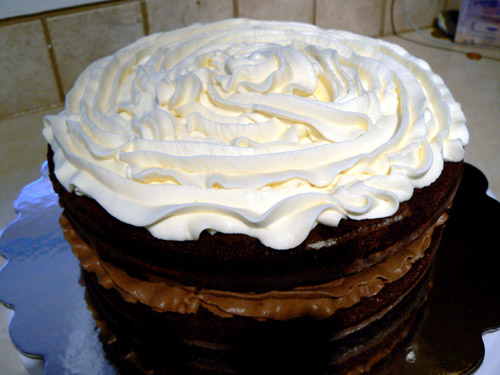 Step 3 –  Chocolate Ganache: Spoon the chocolate ganache over the whipped cream. Make sure your ganache is not too warm or it will melt your whipped cream. Then simply spoon and drizzle it all over, letting it drip down the sides.
Don't worry if it's messy. You can wipe up your cake board afterward.
Step 4 – Crumbled Skor Bar: Take a couple of Skor bars (or Heath bars will do the trick). Place them in a plastic bag and crumble them with a mallet.
Place the bits on across the top of your cake.
Step 5: Piped Whipped Cream
Pipe whipped cream rosettes around your cake. Or make whatever design you'd like. It's your cake, have fun with it.
Step 6 – Garnish: Garnish with sliced strawberries or another fruit, if you wish.
Enjoy the chocolate mousse cake with ganache and whipped cream. Now all I need are some candles.
Comments
comments