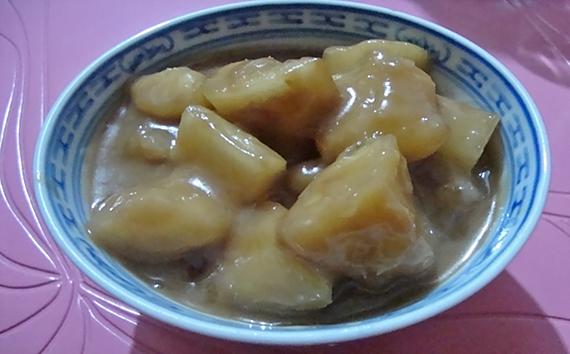 We usually make ginataang kamoteng kahoy in our province on special occasions. But you can certainly make this delicious treat anytime. It can be a dessert or merienda after siesta time. I learned this recipe from one of my aunties.
Ingredients Needed:
1 kilo cleaned kamoteng kahoy or cassava sliced into small cubes
1 cup coconut milk
1 cup brown sugar
2 cups water
1 tbsp vanilla essence
Directions:
In a casserole, boil the water, sugar and vanilla essence, with the cassava until it will slightly tender. Pour the 1 cup of coconut milk; simmer for 5 to 8 minutes over a low heat to bring the creamy sticky texture and to fully cook the cassava.
Serve while it's hot or chilled! Enjoy!
Comments
comments